In the realm of business and management, the fields of accounting and finance play integral roles in
ensuring the financial health and success of organizations. Both are essential components of effective
financial management, yet they have distinct focuses and career paths. In this blog post, we'll delve into
the key differences between Accounting and Finance, their individual functions, potential career
prospects, and the importance of specialized training from reputed institutes.
What is Accounting?
Accounting involves the systematic recording, analyzing, and interpretation of financial transactions and
information. It's the language of business that provides insights into a company's financial health,
performance, and position. Accountants meticulously prepare financial statements, such as balance
sheets, income statements, and cash flow statements, ensuring accuracy and compliance with
accounting standards.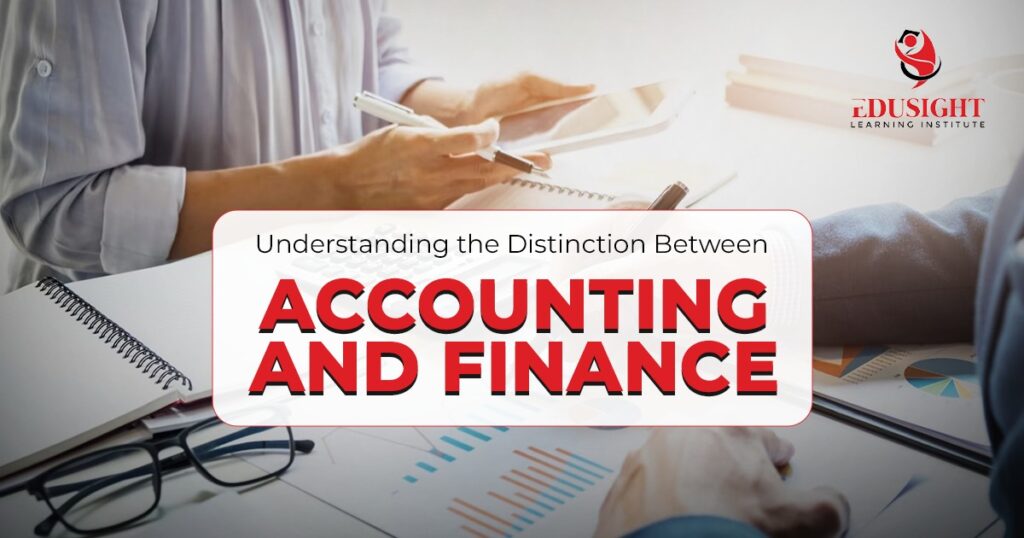 What is Finance?
Finance, on the other hand, concentrates on managing funds, investments, and risks to achieve financial
goals. Financial professionals assess investment opportunities, strategize capital allocation, and make
financial decisions to maximize returns while minimizing risks. They're responsible for maintaining a
balance between risk and reward, making finance pivotal for the growth and stability of businesses.
What Can You Do With a Finance Degree?
A degree in finance opens doors to a wide range of career opportunities, including:
Investment Banking: Advising clients on financial matters, mergers, acquisitions, and raising capital.
Corporate Finance: Managing an organization's financial resources, optimizing capital structure, and
budgeting.
Financial Analysis: Assessing financial data to guide strategic decision-making.
Risk Management: Identifying and mitigating potential financial risks to protect assets and investments.
Financial Planning: Creating plans to achieve personal and organizational financial goals.
What Can You Do with an Accounting Degree?
An accounting degree can lead to roles such as:
Public Accounting: Providing audit, tax, and advisory services to clients.
Management Accounting: Assisting in internal decision-making by analyzing financial data.
Forensic Accounting: Investigating financial discrepancies, fraud, and financial disputes.
Government Accounting: Managing financial operations for government entities.
Internal Auditing: Ensuring compliance and evaluating internal controls.
Further Education in Finance and Accounting
To excel in either field, specialized training is crucial. Reputed institutes like the Business & Management
Institute offer comprehensive Accounting & Finance Training programs that equip individuals with the
necessary skills and knowledge. These programs cover various aspects of financial management,
including financial analysis, reporting, risk assessment, investment strategies, and more. With specialized
education, individuals can confidently pursue careers in finance and accounting, contributing to the
success of businesses and organizations.
In conclusion, while accounting and finance are closely related, they serve distinct purposes within the
business landscape. Both fields offer diverse career paths, and the right training from esteemed
institutes can enhance your expertise and opportunities. Whether you're inclined toward numbers,
analysis, or strategic decision-making, accounting and finance have something to offer for every aspiring
professional.