What is a Business Management Strategy?
A Business Management Strategy is a well-defined plan that outlines how an organization will achieve its long-term objectives and goals. It involves making choices and allocating resources to create a competitive advantage. Business management strategies encompass various areas, including marketing, finance, operations, and human resources, and they guide decision-making and actions throughout the organization.
Why are Business Management Strategies Important for Business Success?
Business management strategies are crucial for several reasons:
Goal Achievement: They provide a roadmap for achieving the organization's goals and objectives.
Competitive Advantage: They help a company stand out in a crowded market and maintain a competitive edge.
Resource Optimization: Strategies ensure that resources (financial, human, and physical) are used efficiently.
Adaptability: Strategies help businesses adapt to changing market conditions and customer demands.
Long-Term Sustainability: Effective strategies support the long-term success and sustainability of a business.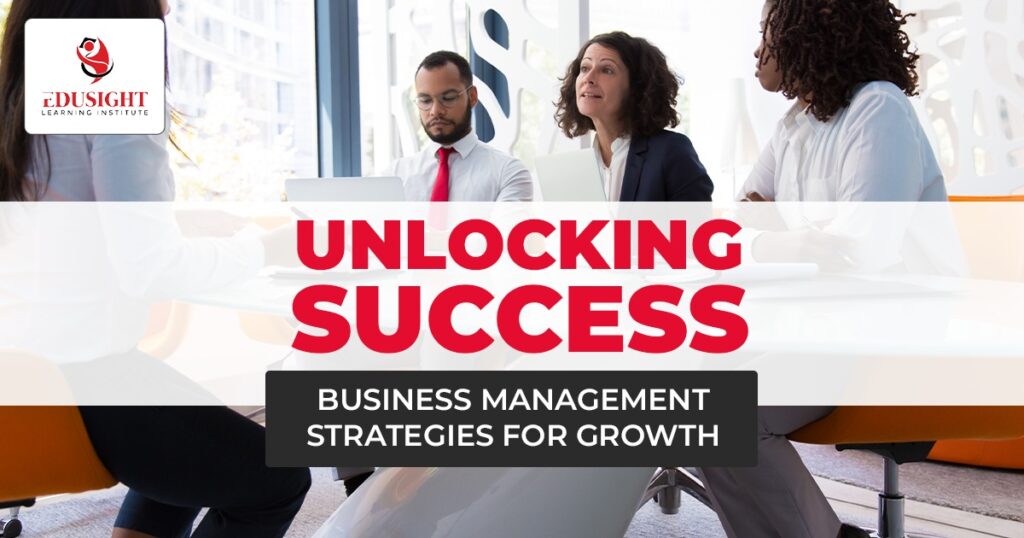 Types of Business Management Strategies
Business management strategies can be categorized into various types, including:
Corporate Level Strategy: Decisions at the highest level, such as diversification, mergers and acquisitions, and global expansion.
Business Level Strategy: Focuses on how a business competes in a specific market, including cost leadership, differentiation, and niche strategies.
Operational Strategy: Concerned with day-to-day activities and processes that help the business run efficiently, such as supply chain management, inventory control, and quality management.
Marketing Strategy: Involves product positioning, pricing, promotion, and distribution decisions to attract and retain customers.
Financial Strategy: Concerned with managing the financial resources of the organization, including budgeting, capital allocation, and risk management.
Human Resource Strategy: Focuses on recruiting, developing, and retaining a skilled workforce.
Innovation Strategy: Involves research and development efforts and plans for introducing new products or services.
Developing and Implementing Business Management Strategies
Developing and implementing business management strategies involve several steps:
Analysis: Assess the organization's internal and external environment, including strengths, weaknesses, opportunities, and threats (SWOT analysis).
Goal Setting: Define clear, measurable objectives that align with the organization's mission and vision.
Strategy Formulation: Choose the appropriate strategies to achieve the goals, considering the organization's strengths, weaknesses, and the competitive landscape.
Resource Allocation: Allocate resources (financial, human, and other assets) to support the selected strategies.
Execution: Put the strategies into action and monitor progress through Key Performance Indicators (KPIs).
Evaluation and Adaptation: Continuously assess the effectiveness of the strategies and make adjustments as necessary.
What is Business Intelligence?
Business intelligence (BI) is a set of technologies, processes, and tools for collecting, analyzing, and presenting business information. It helps organizations make data-driven decisions by transforming raw data into actionable insights. BI typically involves data warehousing, data mining, data visualization, and reporting to support strategic and tactical decision-making in areas like marketing, sales, finance, and operations. It's a valuable asset for understanding market trends, customer behavior, and internal performance to enhance business management strategies and overall success.